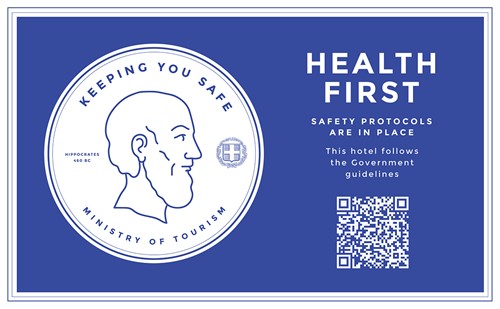 At the Elounda Ilion Hotel the safety and wellbeing of our guests is our top priority. Although the holiday experience might look a little different, we are doing our best to ensure it feels the same. While we have adjusted our services to the new reality, you will still recognize our genuine attention to detail and personalized care.  Below are some key measures designed to ensure the protection of each of our valued guests throughout their stay.
GENERAL INFORMATION
All our team members have had certified training and are systematically monitored for strict adherence to the guidelines such as hand washing – cleaning, nose and mouth covering during coughing or sneezing, etc. We have established a medical action plan and have a certified doctor on call. Provision of appropriate face masks and gloves to staff where and when necessary based on the instructions of the National Public Health Organization with the adequacy of protective gear regularly supervised. Public Areas will be undergoing thorough disinfections, with extra attention to high contact areas, including the front-desk and public restrooms. Daily natural ventilation of the lobby and public areas will take place. All furniture in public areas are rearranged to ensure appropriate distancing (4 people / 10 sq. m.) Floor markings are installed for social-distancing measures of at least 2 m and should always be maintained by customers and employees.  A nod and a smile will replace handshakes. Antibacterial sanitizers are placed in all public areas for guest usage. We will encourage contactless payments. In case a guest is required to report any symptoms of illness the Front Office staff will be at their service.
GUEST ARRIVAL & TRANSPORTATION
Your ring of confidence is strengthened since all guests' temperatures will be checked upon arrival to the resort as a precautionary measure. Additional temperature checks may be done at your request for the duration of your stay.  Electronic Check-in via your mobile or our tablet is available, where the tablet will be cleaned and disinfected after each use. Check-in has been altered to 15:00 and Check-out at 11:00 due to Government Regulations to ensure that each room is thoroughly disinfected between stays, and that the room is adequately ventilated. Accompanying personnel will respray and disinfect the door handle with disinfectant upon leaving the room. All Luggage will be disinfected upon arrival and the company car will be carrying only same room luggage. Guests are required to maintain distances indicated by clear signage, until directed otherwise by staff. Upon arrival, you are advised to ask about the medical facilities in the general area.
GUEST ROOMS
Guest rooms undergo, thorough cleaning with approved disinfectants and a steam cleaner. The air condition unit g is also cleaned thoroughly always according to the supplier's manual. All in-room print collaterals are removed as well as extra decorative objects. Housekeeping team is equipped with face masks, disposable gloves & when required disposable protective aprons. The frequency of room cleaning has been altered and our employees will only enter your room upon your request. Please inform reception the day before until 16:00. We recommend guests to ventilate the room when they are out for the day and to vacate during housekeeping service and if any maintenance issue resolution is needed. A room seal is placed on doors to indicate to guests that the room has not been accessed since being thoroughly cleaned.  Please be advised that hotel rooms are for customer use only and no visitors are allowed in the premises.
POOL AREA
The operation of the swimming pool is completely safe concerning COVID-19. Pool chlorine readings will be conducted & recorded every four hours in accordance with the protocol issued. Pool chairs will be sanitized every morning before use and again after guest changeovers. They will be separated at least 2 meters apart in each direction. Guests are required to follow the Pool instructions during use of the pool such as showing before entering, constant use of anti-slip flip flops and refrain from usage in case of skin conditions.
FOOD & BEVERAGE
In our restaurant guests can enjoy food knowing it is prepared following high standards of food preparation. We have taken measures which include:
All kitchen staff are required to strictly adhere to HACCP rules.
Reservations at a specific time are required for breakfast and dinner to achieve restaurant capacity reduction enabling ample social distancing
Guests are required to use the hand sanitizers which will be available for them upon entry & exit from our restaurant. Minimal items should be placed on guest tables to allow for effective disinfection in between each guest.
All Team Members will wear protective face masks and gloves as required.
Enhanced cleaning and disinfecting of food contact surfaces and frequently used machines will be practiced.
All tables, chairs, service stations, will be cleaned with a detergent solution and sanitizer after each use.
For increased hygiene we will no longer offer buffet but instead an attendant wearing face covering will be serving both breakfast and dinner a la carte.
Bar stools and countertops will be sanitized around the clock. We will ensure that disposable cups are always available, and bartenders will wash hands after picking up glasses, etc.
STAFF MEMBERS
We have set new requirements for all staff members to ensure everyone's safety. Except the certified training that our staff underwent, they will be having temperature checks before their shift and will always be wearing protective face gear and gloves.
COVID-19 MONITORING LOGBOOK
Our Government 's instructions declare that we are required to keep a record of contact details, for all staff members and guests  always with compliance to the General Regulation on Personal Data Protection (GDPR), so that if a COVID-19 case is identified on a later date to make communication possible. This situation of COVID-19 processing is necessary for reasons of substantial interest in public health. Under such circumstances our hotel will process personal date of our guests and personnel to safeguard their health and safety which will be limited to what is necessary by the Greek Law and only to medical authorities or doctors.
ILLNESS MANAGEMENT PLAN
Since we are experiencing an epidemic it is our duty to employ precautionary measures as required by the set protocol of the local authorities, therefore discreet monitoring of guest symptoms is practiced.
For your safety in case sickness occurs during your stay, we reserve the right to ask a specialized physician to attend to you and evaluate your health.
If the physician estimates that you are in urgent need of hospitalization and you are presenting a severe clinical picture, you shall be referred to the hospital of Agios Nikolaos, as a suspected COVID-19 case. If for some reason that is not possible you will be transported by National Emergency Aid Centre to the nearest health unit. Meanwhile, the hotel's health officer shall communicate with the National Public Health Organization to obtain instructions on how to address the situation.
If you have a mild clinical picture and the physician feels that a  COVID-19 diagnostic testing needs to be obtained due to contagious disease symptoms, please be notified that you will need to remain in your room until the results of the laboratory test are announced, which normally takes up to 24 hours. It is advised that you contact your insurance company to inform them of the situation and how to claim the expenses. Meanwhile, entry of staff into your room, unless there is significant reason, shall be avoided. If necessary, a single staff member shall be advised to address you exclusively.
In case the result comes back positive, you shall be transferred to a special quarantine hotel and later if you need treatment to the hospital of Agios Nikolaos. If there is a person wishing to accompany and take care of you that is possible as long as they follow all the necessary measures. The contact details of a relative of yours will be required in case he/she needs to be contacted.
In case the result comes back negative you will be treated at the hotel according to the instructions of the treating physician.
During this pandemic we are doing everything we can to ensure your safety, However, we cannot guarantee that you will not be exposed to the virus. You are requested to take self-protective measures and adhere to the covid-19 relevant house-rules to minimize any exposure to the virus.
The most important hygiene rules according to WHO
1 It is best to turn away if you must cough or sneeze. There should be at least one-meter distance between you and other people.
2 Please use a tissue only once. Then dispose of it in a bin with a lid.
3 When coughing or sneezing, keep the crook of your arm in front of your mouth and nose when no tissue is available.
4 After blowing your nose, sneezing, or coughing, wash your hands thoroughly, either with alcohol-based disinfectant or with soap and water.
Services not available:  gym, tennis,  children's playground & minibar
Please note that these measures are subject to change and we will update them accordingly.